Ivan Steiger and his passion
Family collection of historical toys
---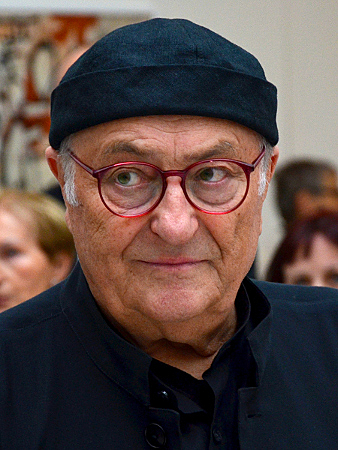 Ivan Steiger is a prominent Czech cartoonist, illustrator, painter, writer and director, who lives and worked in Germany since 1969.
After 1980, he started collecting toys with the help of his family, in 1983 he opend a toy museum in Munich and since 1994 the toy collection, one of the largest in the world has been exhibited at the Toy Museum in Prague.
Born in Prague in 1939. Since 1958 he has studied dramaturgy and screenwrtiting at FAMU Film school in Pragu. He has writen poems and short stories. From 1961 he began to draw regulary for Literary Newspaper and his drawings began to appear in foreign magazines and newspapers. His stamp drawing, from which a small flower grows, has become one of the symbols of the occupation in the world.
In 1969 he left for Munich, drew for the Süddeutsche Zeitung, and from 1972 regularly for the Frankfurter Allgemeine Zeitung, where he published 9,000 drawings by 2011. His tiny and simple drawings, which call for thought, appeared in many world newspapers, in Europe and in the US. His most prominent works include a set of cartoon illustrations to the Bible.
Since 1971, he has directed and produced a series of 27 documentaries and short filmy for television. After 1980, he started to collect childrenś toys with his family. In 1983 he opend a toy museum in Munich and since 1994 his toy collection, one aof the largest most extensive in the world, has been exhibited at the toy museum in Prague.
In 2009, Ivan Steiger was awarded the meritorious cross of the Federal Republic and a medal for merit in the Czech Republic. Ivan Steiger currently lives in Prague and in Munich.
A pretty personal thank to my wife Eve and nowadays adult daughters Helena and Johanna, for the patience and kindness that I had with my extended childhood since the spring of 1976, when I dragged them into whirlwind excursion and to the plush bear, wooden and tin game, stretching dolly, trains and cars and all those charming, the fantasies of awakening little artwork of unprecendented beauty over which we still breathe our breath.
Ivan Steiger